Adam talks about leaving Liverpool and the departure of Kenny Dalglish
Feature by Adam Bryant
Updated Saturday, 6th October 2012
Charlie Adam faces his former club on Sunday, but the Stoke City midfielder believes he made the right move leaving Liverpool.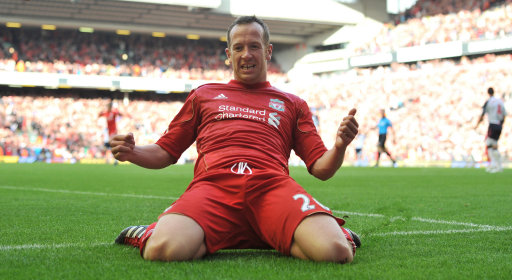 "I could have sat there for the next two or three years and played here and there in the Europa League, come off the bench if I was lucky or sat in the stands like I was against Manchester City in the last game I was there," he told the Daily Mail.

"But I don't want people saying I just sat doing nothing.
'I'll probably get more respect as a person by taking the opportunity to play somewhere else.

"It was hard to leave because Liverpool are one of the biggest clubs in the world, but I want to play football. I went to see the manager after being on the bench for the first couple of Europa League qualifiers because he had brought in Joe Allen, Lucas was coming back from injury, Stevie Gerrard is one of Liverpool's greatest players, and Jonjo Shelvey was playing as well.

"He said he saw me as a squad player. I respect the decision he made. He said I could look for a club and I did that.'

Barely a year after completing a £6.75million move from Blackpool and being driven through the gates of Melwood by Kenny Dalglish, Adam was following his boyhood hero out of the club. But he is proud of what Liverpool achieved in a season in which cup success ended a six-year wait for a trophy, but failed to mask a dismal Premier League campaign.

"Kenny Dalglish was the greatest to play for Liverpool and Scotland, so for someone like that to sign me was an honour. It was difficult when he left but the owners put a lot of money into the club and felt they had to change the manager."

But the Scottish international believes Liverpool have the right man in Rodgers and it will only be a matter of time before success returns.

"Time wasn't on Kenny's side but Brendan Rodgers will get the time. There's a lot of pressure but he'll get it right. I enjoyed my year there and I think it was successful. We got to a Carling Cup final which we won and an FA Cup final we lost. It's a great place to play and I'm looking forward to going back."
Interact with us