Cardiff keen to take Bellamy back
Feature by Adam Bryant
Updated Thursday, 28th June 2012
Cardiff City have confirmed their interest in Craig Bellamy.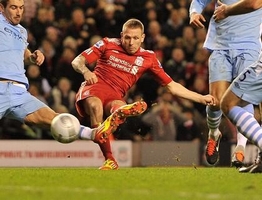 The Welshman spent a season-long loan with the Bluebirds in 2010/11 while at
Manchester City
, before signing for Liverpool last summer.
"He's a Cardiff boy so it would be great if he could come here," said chief executive Alan Whiteley.
"We'd love to have Craig back but he is a Liverpool player and, until Liverpool and Craig decide what they are going to do, there are conversations that we can't even have at the moment.
"We don't know how it is going to pan out and it is for Craig and Liverpool to decide what they are going to do first.
"But if Craig decides he is going to leave Liverpool and Liverpool are prepared to let him go, then clearly we'd love to talk to him."
Share your views on our Liverpool FC Forum, Twitter and Facebook
Interact with us