Enrique wants a first team place
Feature by Adam Bryant
Updated Wednesday, 24th October 2012
Jose Enrique wants to regain his starting place in the Liverpool first team after recovering from a knee injury.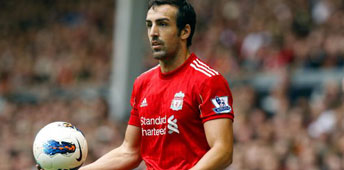 The Spanish defender returned from a month out of action in
Saturday's home win over
Reading
and is expected to be in the first 11 against Anzhi on Thursday night.
"It's been difficult as every footballer just wants to play," said Enrique.
"I tried to but was getting a lot of pain in my knee and because of that I couldn't perform at my true level.
"I got injured in training when I tried a shot. I twisted something and it didn't feel right.
"It took a few weeks to recover but now it finally seems to be okay again.
"Brendan Rodgers' style of play suits me. His formation and tactics are the type of football I like to be involved in."
Share your views on our Liverpool FC Forum, Twitter, Facebook and Google+
Interact with us