Gerrard is living the dream
Feature by Adam Bryant
Updated Monday, 1st October 2012
Steven Gerrard is happy at Liverpool and isn't going anywhere for a while.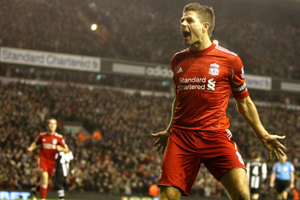 "I am contracted for another 18 months or so, and I am really happy here," said the Liverpool skipper.
"I'm enjoying my football, I feel physically strong, and I want to go on for a long time yet.
"I love playing for the club, I love being the captain. It's living the dream, so to speak.
"I'm enjoying playing under Brendan Rodgers. The training is good, it's a very exciting time, and hopefully I can continue to play and to contribute under the new regime."
Interact with us