Lucas' five-year plan
Feature by Mike Kennedy
Updated Friday, 12th October 2012
LFC Online's Mike Kennedy has been lucky enough to catch up with Lucas Leiva and ask him a few questions about his hopes or the future and what he is doing while he's injured.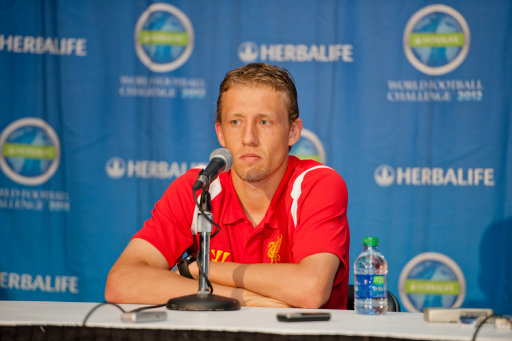 Having played for Liverpool for five years now, under four different managers, we asked the Brazilian midfielder where he sees himself five years from now...
"In five years I can see we achieve a lot of things. The last three or four years have been very difficult, but that will be gone some time and we will start to achieve and win the league, and everyone is working here to do that one day.
"We know at the moment its not been possible but if you see a few players like Agger and Suarez committing themselves to this club and signing new deals it shows how much these players believe, so I don't think nobody would want to stay at a club that they don't think can win anything. Especially for foreign players I think, because if you're so far away from your house and your family I think I should have a great career away, so I just hope we can be winning the league and maybe the Champions League - why not?
"I don't think my role will change much. Maybe if I was an offensive player I would drop back, but I don't think I'll be playing as a keeper in five years. I think it will be more or less the same - a holding midfielder with more experience and at 30 a good age still."
When asked about Rodgers' comments about offering him a scouting role while recovering from injury Lucas added:
"When I had the injury I spoke with him and he said if I wanted to go and watch a few games with his staff, just to make me be part of the game and still looking at some tactics. When you're injured you don't go outside, you don't see the training session. It's not something I have to do, but its been good and hopefully I'll be going soon."
Interact with us