Pulis accuses Suarez of diving
Feature by Kevin Smith
Updated Monday, 8th October 2012
Stoke City boss Tony Pulis believes that Luis Suarez should be penalised for diving.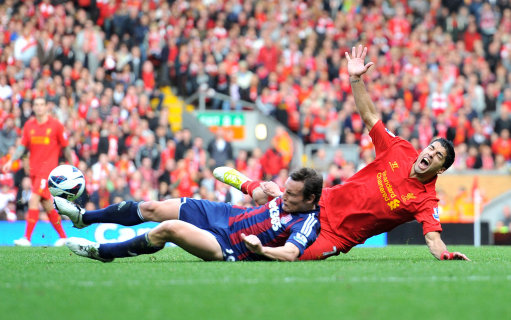 The Liverpool forward was hacked by the Stoke defence during the goalless draw at Anfield on Saturday, but their boss wasn't happy.
"Retrospective decisions are made on a Monday and Luis Suarez should be punished," he claims. "The one in the penalty box was an embarrassment and how he wasn't booked I don't know."
Liverpool manager Brendan Rodgers once again defended the Uruguayan and blames referees for not giving clear decisions.
"I haven't seen the incident so I can't really comment, but whatever Luis does there will always be a problem. It gets brought up every week whether it's with the media or refs, but I thought he was terrific today," he said.
"There is that fear. I could tell you about three or four strikers who go down in the box with very minimal contact, and all of them have had penalties this year. Everyone in the ground saw it was a penalty. Apart from the referee.
"I can't worry too much about it. It's something that hopefully the referees, when they analyse and assess their own performance, will have a look at. Hopefully these penalties that we don't get won't come back to haunt us," he concluded.
Share your views on our Liverpool FC Forum, Twitter and Facebook
Interact with us