Steven Gerrard joins Twitter
Feature by Adam Bryant
Updated Wednesday, 3rd October 2012
Finally the Liverpool captain joins the social revolution, but its all for a good cause.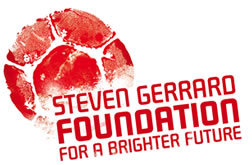 Gerrard has set up @SGF08 to promote the work of his charity, the
Steven Gerrard Foundation
.
"I'll be putting tweets out there but I won't be a serial tweeter like some players," he said. "There won't be anything too ambitious or controversial. I won't be filling the papers with my tweets!

"It's about getting the foundation out there. That's where the Twitter idea has come from. I'm not really a social networker, but if I can use Facebook and Twitter to raise awareness then great. I'm hoping it snowballs and we can get as many followers as possible.

"If someone can give me 20p, 50p or £1 along the way, come to one of my events or bid for one of the items being auctioned then great. Every little bit helps.

"This money isn't for me, it's for the people who need it most - the poorly kids. If people don't want to give us anything but just want to follow us and show support in that way that's great as well."
Share your views on our Liverpool FC Forum, Twitter and Facebook
Interact with us