Suarez pulls Liverpool's strings in domination of Gomel
Feature by The Guardian
Updated Thursday, 9th August 2012
Luis Suárez contributed hugely in Liverpool's dismissal of Gomel, the Reds winning 3-0 on the night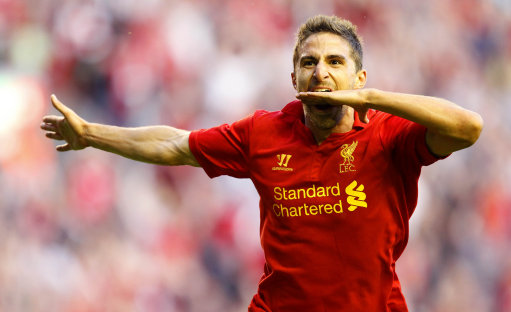 Liverpool are evolving slowly off the pitch under Brendan Rodgers, although Joe Allen's presence in the Main Stand at Anfield confirmed that a second summer signing is on its way, but there can be few complaints over the rate of progress on it. FC Gomel were easily dismissed in the Europa League third qualifying round with a display that illustrated Rodgers' vision' "and Luis Suárez's part in it"' is developing rapidly.
There was a marked improvement between the Liverpool of the first leg and this performance and it was not exclusively down to an extra week's training. Suárez was unavailable in Belarus. He was unplayable at Anfield.
The Uruguayan was one of the lowest paid members of Liverpool's first team squad before signing a new contract that raised his weekly wage from £35,000 to almost £100,000 on Tuesday. The need for Liverpool to keep their finest forward content was once again underlined in an irrepressible display of skill and creativity from the 25-year-old. The additional fitness that playing in the Olympics has given Suárez could prove invaluable over the opening weeks of the new campaign.
Liverpool's all-round play contrasted greatly with the first leg. There was a real urgency to Rodgers' team in the final third, a clear instruction for one and two-touch passing in and around the opposition penalty area and with Fabio Borini immediately linking well with Suárez as the manager had envisaged, Gomel were mere bystanders as Liverpool eased towards the play-off round.
Suárez and Steven Gerrard combined superbly to create the first opening of the night, a rising shot from 20-yards by the Uruguayan that flashed just over, before Borini joined the ranks of the great and not-so-great Liverpool forwards to score on their Anfield debuts. The breakthrough was created by Suárez when he collected a pass from Lucas Leiva, whose return from a cruciate ligament injury will be invaluable to Rodgers, and left Igor Kuzmenok for dead on the by-line. His low cross was blocked by Nikolai Kashevski but only as far as Borini who volleyed cleanly inside the near post.
At the opposite end of the European goal scale for Liverpool lies Gerrard, and his 39th arrived four minutes before half-time after Suárez had again glided past the Gomel defence. He beat two men this time having seized on a loose ball, drew the keeper and squared for his captain to convert into an empty net.
The backdrop to this procession was the only unsettling aspect of the night for Rodgers as Daniel Agger and Andy Carroll, two players who could be sold to improve the manager's transfer budget, received raucous receptions from the Liverpool supporters. Sustained chanting for Agger rekindled memories of the Kop's vehement support for Xabi Alonso prior to his move to Real Madrid, albeit without the instruction on where Rafael Benítez should place his intended replacement Gareth Barry. Carroll was also afforded an ovation as he warmed up in front of the Kop.
Back on the pitch, Jonjo Shelvey was fortunate to collect just one booking for two bad challenges, Gerrard struck a post after the Gomel goalkeeper Vladimir Bushma spilled Stewart Downing's cross and Suárez had a fine run and shot tipped around the far post. It fell to Glen Johnson to provide the coup de grace when he collected Kuzmenok's header on his chest, allowed the ball to bounce and sent a left foot half-volley into the top corner from over 20 yards.
Interact with us