The best team lost
Feature by Footymad
Updated Monday, 24th September 2012
Brendan Rodgers was disappointed with Liverpool's 2-1 home defeat to Manchester United on Sunday, and blames referee Mark Halsey for wrongly sending off Jonjo Shelvey and poor penalty decisions.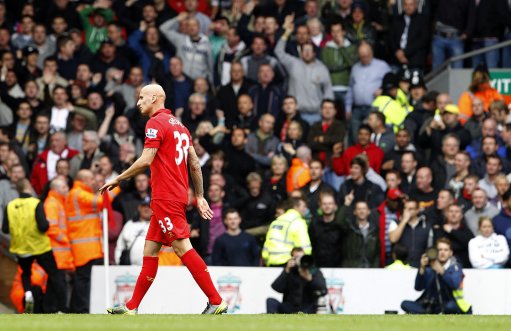 "We are bitterly disappointed with the result, I thought the best team lost," said the Reds boss. "Of what we could control I thought the players and performance level was outstanding, what we couldn't control were decisions by the referee."
"If Shelvey gets sent off for having both feet off the ground then Evans has to get sent off for that as well if you watch the replays.
"Jonjo is coming in from the side, it is a tackle the player has to go for and one the United player has to go for but the Liverpool player can't get sent off and the United one stay on the field.
"I thought it was very harsh and that was how it was throughout the game as a number of poor decisions went against us. The penalty was never a penalty. Johnson has made a fantastic recovery back in and I have no idea why Valencia goes down.
"Up the other end Suarez gets a toe on the ball, gets contact, goes down and doesn't get the penalty.
Interact with us