Time to pull together
Feature by Footymad
Updated Thursday, 6th September 2012
Brendan Rodgers believes that it is important not to dwell on what might or might not have been during the transfer window, and pull together as one club.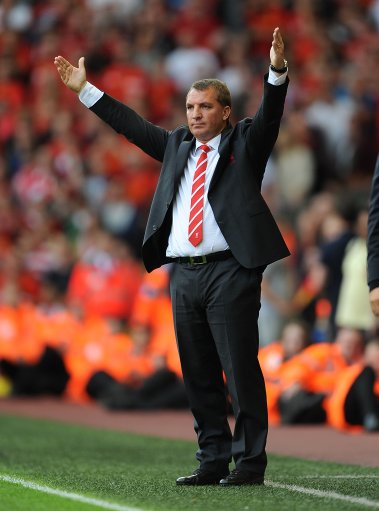 Speaking with LFC Online, the Liverpool boss explained his decision to join the club in the summer and has faith in the owners, but insists that improvement will take time.
"What I found since I first came into here is that there had been a real sense of instability at the club for a few years," he said. "There was a real sense of insecurity really and what made it was instability.
"I've come into here to look to try to stabilise. There's a lot of work to to in terms of the playing squad and I've been brought into implement a vision, because I work a certain way and I hope to implement that over a period of time. The owners have been very honest and up front right from the off.
"Of course it didn't to go plan in the transfer window, but certainly going forward there's been a great learning taking place over the summer. There's been a lot of work to do trimming the squad.
"Every manager always wants more players but the reality is in terms of what you've got. There needed to be a little bit of surgery done on the squad. We finished up where we were at and now we've got to move forward as a football club and as a whole and have the one club mentality.
"A manager always wants more players but I understood there had to be some sort of surgery at the squad. Some of the wages here were absolutely astronomical, in terms of value and worth and that needed to be looked at."
Rodgers is confident that the club's rising young stars will now get a chance to shine, at least until the January transfer window.
"What it will do is it will give me the chance to look at some young players who maybe wouldn't have been given the chance before," he added. "I think they come into the fore now and Liverpool is one of those clubs that loves their young players.
"What we are going to see over the next three to four months is do we have enough good young players and obviously that brings us through to January and certainly we can assess it from there.
"I came here first and foremost because of the club - the history of the club. I could have stayed in my comfortable chair in South Wales having got promoted and been there for a number of years. For me I wanted to work at a club that was world class at the very top.
"I had some choices to make in the summer because I could have gone elsewhere, but I genuinely came here first and foremost because of the owners, because I felt a real honesty in their approach to how they want to go forward with the football club. I knew there was going to be a bit of pain short term, I understood that, but hopefully for the longer term gain this was what we would have to go through.
"We are in a position where we've got 25 minimum games between now and January, so we're going to be stretched to the limit, but this is the idea of why they are here. I've spoken to players, if they've got niggling little injuries you've got to man up and we've got to come together and be strong.
"What I've got here is a platform of hard work and integrity. The group have been absolutely fantastic, every day working well and working hard. It's important that we all come together as supporters, players and management and really push forward."
Interact with us