Torres' debt to Liverpool
Feature by Adam Bryant
Updated Wednesday, 17th October 2012
Fernando Torres admits he owes a lot to Liverpool and that the club remains a big part of his life.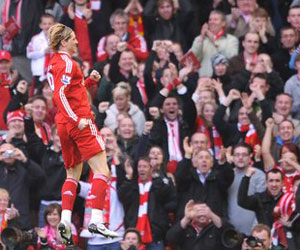 "I owe Liverpool a huge amount," he said. "To the people, to the men in charge, to Benítez and his staff, to the city. A huge amount.
"Liverpool is a fundamental part of my life. They don't remember me that way, but time will change that. I could not have chosen a better place to go when I left Atlético.
"I decided to leave because I had to take a step forwards. It wasn't the best way to have gone but nor were things exactly as they were sold [to people].
"One day the truth will come out. In a sporting sense, nothing was happening; a new project was needed. We talked about that – about growth.
"My son is a Liverpool fan and he was already kicking a ball before he was one. He was born in the football city; he had no choice."
Share your views on our Liverpool FC Forum, Twitter, Facebook and Google+
Interact with us