A Delusional John Henry
Feature by Connor Morrissette
Updated Friday, 7th September 2012
Flashback to October 2010. John Henry's bid to buy Liverpool Football club was accepted and fans everywhere rejoiced. The reign of George Gillett and Tom Hicks was no more and any fears that the club would go bankrupt were gone.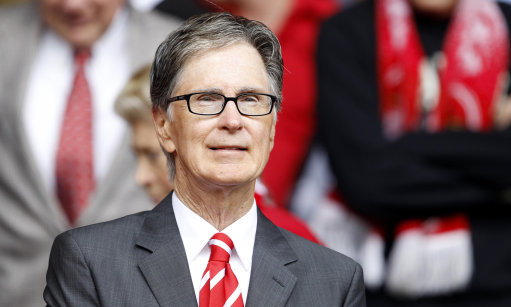 This changing of the guard lifted the city of Liverpool and fans could once again dream of being contenders in the Premier League and abroad. Henry also owned a professional baseball team in America during this time; the Boston Red Sox. The Red Sox had won titles in 2004 and 2007 and despite missing the playoffs in 2010 they were still one of the most feared teams in baseball.
Looking at Henry's entities now one can only wonder what the hell happened? As we all know Liverpool failed miserably at the end of the transfer window and after three fixtures in the Premier League they are in the drop zone. The situation in Boston is worse. The Red Sox spend $ 146,371,619 on players per season but have a record of 62 wins and 74 losses. They have the fourth highest wage bill in the league but find themselves below average in terms of record. The Red Sox had the best record in baseball for most of 2011 but then collapsed during the last month of their season. They have not been the same since. If Liverpool can learn anything from the Red Sox fall from grace it is that when the going gets rough John Henry gets delusional.
Liverpool's awful start and the failure to sign a striker at the end of the transfer window is in no way the equivalent of a massive collapse like that of the Red Sox. However, it is a setback and John Henry has come out publicly in a letter to fans apologizing for the lack of action. The letter raises more questions than answers and even makes Henry look somewhat foolish. What's funny is that a Henry regime has done this before. At the midpoint of this dismal Red Sox season the owners wrote a letter to season ticket holders. It apologized for the poor showing of the first half and attempted to excite fans about the second. Henry and company were trashed on by the Boston media for how wrong they were in their letter. Nobody was in love with the 2012 team like the letter stated and everybody (except for them) knew the second half would be a disaster. After so blatantly failing with the first open letter why did he decide to write a second?
At Liverpool I did believe that Henry needed to make a public statement. A calming of the storm was in order and what better person to issue one than the club's owner. But Henry's letter did not calm the fan base down; it actually managed to work up and confuse us further.
The letter starts out with Henry apologizing to fans for not adding an attacking option at the end of the window, "I am as disappointed as anyone connected with Liverpool Football Club that we were unable to add further to our strike force in this summer transfer window, but that was not through any lack of desire or effort on the part of all of those involved." After loaning out Andy Carroll to West Ham it seemed as though Liverpool were definitely going to sign Clint Dempsey. The Carroll move would not have gone through if this wasn't the case. Liverpool loaning out Carroll but not buying Dempsey tells us two things. One, that Brendan Rogers and John Henry are not on the same page. And two, John Henry did indeed lack the "desire" to sign Dempsey. If everyone at the club did have this "desire" that Henry is talking about, then the deal would have gone through.
A second issue I have with the letter is that Henry seemed to think that Fulham demanded an astronomical fee for Dempsey. This simply was not the case. Dempsey was sold to Tottenham for 6 million pounds; that's peanuts. In no way would this have been a "risky" purchase: "We will invest to succeed. But we will not mortgage the future with risky spending…We have no fear of spending and competing with the very best but we will not overpay for players." That is fine. I am glad Henry said this. What bothers me however is the fact that a 6 million pound move for a reliable attacking option is exactly the type of transfer John Henry is interested in! At such a cheap price the 29 year old Dempsey would have been a wise investment and in no way would it have mortgaged the future. After releasing this letter the fact that John Henry did not sign Dempsey is simply a slap in the face to fans.
It is every owner's dream to see their side be successful. Since the dawn of the 21st century Liverpool have won the Champions League, a UEFA Cup, an FA Cup and a League Cup. There is one gaping hole in the Liverpool trophy room and that is reserved for a Premier League title. In the letter John Henry states "most of all we want to win." Well if he truly feels this way he should be embarrassed because Liverpool will not compete for a Premier League title yet again this season. The team clearly still needs a lot of fine tuning and signing Clint Dempsey would not have instantly launched Liverpool to title or top four challengers, but it would have given fans hope. A hope fans haven't had since Fernando Torres and Steven Gerrard led Liverpool to a second place finish in 2008/2009. By missing out on Dempsey, a consistent finisher who scored more goals last season than Torres did in 08/09, John Henry did Reds fans a grave injustice. Liverpool are stuck in a mid table rut and I truly believe Henry missed the chance to jump start his franchise.
The season is still young and despite looking like a team tipped for relegation Liverpool have had some bright moments. It has been tough to watch so far and clearly I am angry with John Henry but this project will get better. There are 35 fixtures left which is plenty of time to turn the tide. This upcoming international break will provide players with some time to reflect and mentally prepare for Sunderland and then United. We will see improvement.
Would you like to see your Liverpool article featured on LFC Online? Get in touch!
Interact with us