A Very Rough Start
Feature by Connor Morrissette
Updated Sunday, 19th August 2012
I'm not giving up on the team. That was one game. There are 37 more games to be played. It can only get better from here.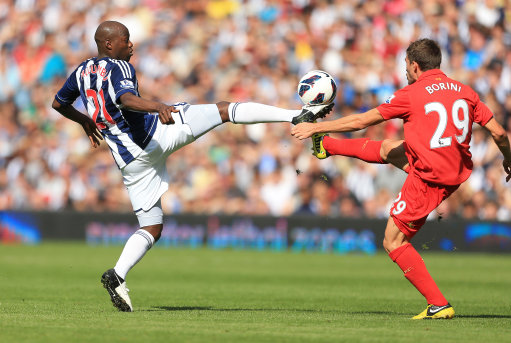 That being said, how can that happen? How can a team with that amount of quality look so poor? How can players put on that coveted red shirt and perform like it means nothing?
For the first half against
West Bromwich Albion
Liverpool looked like classic Liverpool. They had the majority of possession, created some decent chances but went down a goal to a team they should be beating. After that first half it was vital to see how they would respond. I thought they were going to come out guns blazing and find an equaliser. They did not deserve to be losing at that point and I expected them to filter their frustration into positive play on the field. But what did happen in that second half was simply unimaginable.
Agger was stupid. Skrtel was clumsy. Allen was non-existent. Lucas was not up to speed. Gerrard misplaced too many passes. Borini looked out of place. Downing played exactly like last season and Suarez couldn't finish. Instead of proving themselves and showing that they wanted to even the score, they nearly allowed a second goal on 58 minutes.
A pass was misplaced and Shane Long got onto it. He brushed aside Martin Skrtel and was clean through with Danny Agger just behind him. Agger gave Long a little shove in the area and down he went. It was a penalty and Agger had to be sent off. One of the best center back pairings when fit in England last season looked utterly foolish. Luckily, Shane Long embarrassed himself at the penalty spot and Pepe Reina made an easy save.
I figured that would be the low point in the match. Yes Liverpool was now down to 10 but surely they could not play any worse right? Wrong. Not even 10 minutes had passed by and Liverpool were at it again. Martin Skrtel took control of the ball inside his own penalty area. Instead of clearing the ball first time he took a heavy touch and Shane Long got in front of him. When Skrtel did eventually try to pass the ball he clipped Shane Long's heels right on the inner edge of the area. Skrtel had no intention of challenging Long and Long was about as far away from goal as a player can be while still in the box but football can be a cruel game. Phil Dowd gave another penalty and there was no way West Brom would miss a second. This time Peter Odemwingie stepped up and thrashed the ball into the lower left corner on 68 minutes. Liverpool were down 2-0, on 10 men and were now just playing for pride.
But not even the fear of embarrassment motivated Liverpool on Saturday. After the second goal the side was deflated. With the exceptions of chances from Joe Cole and Luis Suarez, Liverpool was under constant barrage from West Brom until finally Romelu Lukaku put the icing on the cake for Albion and made it 3-0 on a header that even Andy Carroll wouldn't have missed. A dreadful end to a dreadful game.
The takeaway: With the exception of Luis Suarez every player that stepped on the pitch today for Liverpool was not ready to play (Suarez just couldn't finish). I know I've been giving Brendan Roger a lot of praise lately but he needs to take the blame for some of this. Obviously the players are the ones on the pitch but Rogers needed to motivate his squad more affectively. Of course I do not know what was said before the match but clearly it was not good enough. Liverpool did not get a touch of the ball in the first five minutes. They acted as if the game was a foregone conclusion. They did eventually pick it up but starts like that need to be avoided. West Brom did not score early but that spell gave them the confidence that they could win this game. Liverpool needs to be the team going after a result from the start; they cannot afford to play any other way.
Personally, I was extremely intrigued to see how Rogers would deal with the squad after they had gone down 1-0 against the run of play. Time and time again either Liverpool would go down one or the opposition would tie the match last season and Kenny Dalglish would not change much and hope that because Liverpool had more possession it meant that they would score. This happened in the opener against
Sunderland
, against Norwich in October, and then again in December to
Fulham
. Rogers seemed to do the same Saturday. He relied on his possession system and thought that possession would turn into goals. Going down a goal after playing so well is a tricky situation, but it was very odd to see Liverpool making nearly the same mistakes as last season. There needs to be progression. Liverpool are used to giving up goals when they should be the ones scoring them, however they are not used to imploding afterwards.
Finally, it is evident that at least one more attacker is needed. No one is close to Suarez in quality and like I've been saying the signings of Nuri Sahin or even Tello need to happen sooner rather than later. Stewart Downing is simply not good enough. I don't care how many chances he created at Villa, he can't consistently produce.
There is hope of course! After one match their cannot be too much complaining and Liverpool obviously will not get blown out every time they step on a pitch. It was just that on Saturday everything that could possibly have gone wrong did. Liverpool face Man City,
Arsenal
, Sunderland and Man United next. These will be tough tasks but Liverpool will compete in these matches. Some are predicting that Liverpool will have a start similar to the one they had under Roy Hodgson. This will not happen. They have too strong a squad and plus they are always up for matches against the cream of the crop in the Premiership. Brendan Rogers needs time and we should give it to him. There is nowhere to go but up. YNWA
Interact with us