Defensive issues of concern to Liverpool FC
Feature by Kevin Morley
Updated Monday, 27th August 2012
Last season Liverpool conceded only 40 goals over the entire Premier League season. This statistic, virtually one goal per game, compared favourably with the majority of Premier League sides.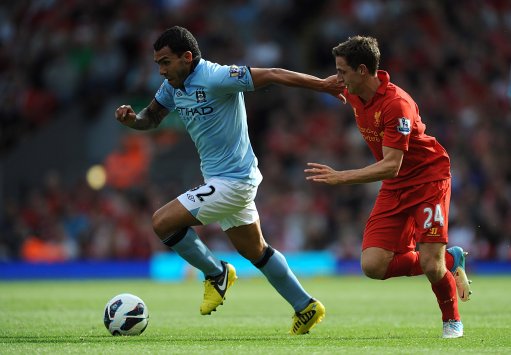 In fact, had Liverpool managed to find the net at the other end a little more often then we would once again be looking forward to hearing the Champions League anthem at Anfield this season.

This season, in the first two Premier League games alone, the reds have managed to leak 5 goals, if this continues then there will be an even greater need to put those chances away at the opposition end. The problem with Liverpool last season, as proven by the statistics, was never their defensive weakness. It was in the opposition goal where we struggled and Brendan Rodgers has clearly arrived at Anfield determined to address this challenge. The new Liverpool manager confirmed from day one that his Liverpool teams will deliver fast, free flowing and aggressive football.

From the evidence of yesterday's game with Manchester City, there are early and encouraging signs that this new style of play is already starting to take shape. Joe Allen is showing signs that he can be the midfield timekeeper most of us know he will become. Allen achieved an outstanding 93.5% pass completion rate, with his through balls in the final third the kind Steven Gerrard would have been pleased to deliver himself. Fabio Borini showed he has the ability to become a 'fox in the box' – even though he never finished his early chance at the near post, he was in the right place at the right time, a golden rule for any striker. Borini also showed he is not short on either confidence or fight, his arms raised rousing of the Kop in the first half showing that he is feeling at home already.

As well as the home debutants, Nuri Sahin and Oussama Assaidi, two further attacking additions who are destined to bring aggression and goals to the side, watched eagerly from the sidelines as Liverpool, on occasion, outplayed last season's Premier League champions. So, Brendan Rodgers has clearly established a new attacking formation and brought in the players that can deliver this. The defensive display is where his concerns must now lay.

Five goals in two games means an average of 95 goals conceded over a 38 game league season. Unless Liverpool are planning to score over 150 goals this will be a problem and is one that must be resolved. Comparisons to last season are inevitable but there are other considerations to think about. Had Daniel Agger been playing yesterday, and had he not been sent off against West Brom, then it is likely that Liverpool would have a much more favourable goals against tally. Jose Enrique has been another absentee, with this forcing Glen Johnson over to a less comfortable position on the left hand side. These are all facts, not excuses but they are facts that must be addressed.

If Liverpool are to challenge for the top four this season, this lack of depth in the defensive areas needs to be addressed, and preferably before the end of this transfer window. The emphasis to date has clearly been on improving the attacking options and this is showing promising signs. Achieving this at the expense of defensive solidity will not deliver an improvement on last season's issues; it will merely shift the problem from one end of the field to the other.
Interact with us