Diving bored...
Feature by Sam Bellis
Updated Thursday, 11th October 2012
Our very own Luis Suarez has filled many column inches in the papers this week. He's the man our press just loves to hate and, if I'm honest, it's getting a bit tiresome.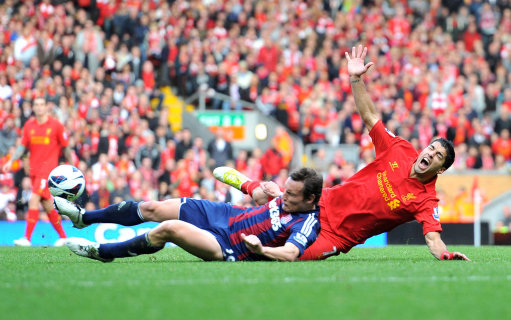 It's plainly obvious that Luis Suarez puts on the theatrics when defenders make contact - that salmon dive against Stoke on Sunday was a bit of a joke - but it's very rare to see him go down when there has been no contact. I really don't think it's correct to vilify just one player when there are countless others doing exactly the same week in and week out.
There have been several occasions already in this young season where Luis Suarez has been denied penalties; Norwich is the game that sticks out most for me. Suarez was kneed in the back and elbowed in the head by Leon Barnett but the ref doesn't give the penalty. Surely, if it's not a penalty then it's a dive?
What's needed in the game now is the honesty of all the players and for consistent refereeing.
I'm definitely not saying that referees have easy jobs. They definitely don't. Their jobs don't get any easier when defenders are running after them claiming the opposition player has taken a dive. Despite this, however, the referees should be a lot more consistent in their decision-making.
Similarly, players need to stop trying to con the referee in to making bad decisions. Defenders should stop saying a player has dived and attackers should stop diving. Stay on your feet as long as possible and then you can't get booked for diving.
And finally, I think it's important to note this: if you can get a yellow card for play-acting and for diving then it's also imperative that defenders can be booked for making false diving claims. Both sides are trying to deceive the referee and that isn't right. It cheapens the game and makes it less enjoyable for everyone.
Aside from the diving, it's been great to see Suarez in the form that he's in. His performance at Norwich was brilliant and Liverpool will need more of the same if they're to salvage anything from the poor start we've had this season.
And, before I go, a top tip for anyone who plays Fifa 13. Buy Sterling and Yesil - these two become legends very quickly - I bought them for my career with AS Monaco and they were scoring 40 or 50 goals a season between them. YNWA.
Follow Sam on Twitter for football musings and more - @srbellis
Share your views on our Liverpool FC Forum, Twitter and Facebook
Interact with us