Humble Pie And A Dose Of Realism
Feature by Craoibhe Rua
Updated Sunday, 11th March 2012
There will always be different types of supporters - locals and OOT's, day trippers and season ticket holders, 'once in a life timers' and armchair experts, all with opinions, most thinking they are at least partially correct.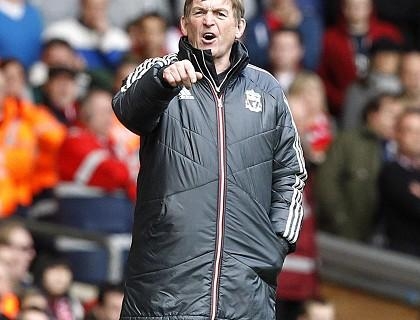 In the last fortnight or so we have lost three league games, like spurs, and won the only cup available, ups and down a plenty. In the league we have played mighty impressive stuff for the majority, with the culmination in glorious defeats to the gooners et al which evidence the progress we desire. Yet we have also looked like the liverpool of 18mths ago when beaten by Bolton and Sunderland. Yes, we we have moved forward, but we are still a work in progress who occasionally flatter to decieve.

Winning a cup is all about not losing, whilst finishing high or even winning a league is about winning matches. Winning leagues requires a never-say-die mentality, a winners, fight to the end, play til the last second like its a final, mentality. More so, to be part of a winning team, you must believe you deserve to be part of it and your team mates believe the same. You don't even need to have that good of a team to win a cup!

It is here that I think we can find our major failing. Time and time again, people look to Manu and Chelsea to evidence a winning mentality. A group of players who aren't afraid to expect the most from themselves and each other. A group of players who will throw their life on the line (figuratively) for the team based purely on the knowledge that there will be someone coming to cover them and bring them back.

There is absolutely no doubt that we have moved forward in the last year, but the frustrations shown by fans, of the players who are paid heartily to wear our precious jerseys, is understandable.For me the problem has always been about belief.

Liverpool does not, as a team, believe sufficiently enough in themselves both individually and as a team, to win the league. They hope, they pretend, but deep down, does Stevie G believe the Adam is good enough, does Suarez believe Carroll is good enough? Does Henderson, Dowining, Maxi or Enrique believe that they are good enough to be the key parts of a winning team? I think not, yet.

Our newer signings will have had very little understanding of the pressures that belong to wearing the Liverpool jersey, and it has shown. Players don't have unbreakable trust in each-other and as a result the machine cannot work to its most efficient. Young players like Henderson and Carroll, players who had previously didn't have to look at themselves as they were the best young talents in their previous teams, are now being left with insufficient support to grow. There isn't a team around them to cultivate their growth, to inspire them to take risks to be the best they can be, because the team is full of people whose mentality also isn't right.

Charlie Adam isn't a defensive midfielder, he isn't a deep lying playmaker and he isn't a box to box midfielder. He is a decent passer who made his name doing the nice stuff because Vaughan done the Donkey work. Henderson isn't Stevie and Downing isn't John Barnes.

The lose of Lucas and the injury of Gerard has meant both Henderson and Adam have both started more than they might have, but playing aside, the self belief and leadership which has been lost has affected the whole team, thus affecting the belief of the newer players.

Any team which brings in a first choice left back, two/three first choice midfeilders and two first choice strikers is going to have teething problems purely in a playing sense. When you then take out the two most steadying influences, it affects the physical, technical and mental development of the team.

The result? Players don't have the belief in each other to gamble to get on the end of the killer pass, the whipped in cross or the rebound. The result? Poorer quality final balls and poorer positioning of shot takers. The result? The lowest shot to goal conversion in the whole league

The team that kenny took over in the 80's was a team of winners, players who believed in themselves and each other. As he tweaked and progressed, on the whole he brought in players who had the belief in themselves to match their talent, but players who knew that they would have to step up. There was no need to change half a team in seven months.

The Liverpool team of 2011/12 were only ever going to make the top 4 if everything went their way. It didn't but we halted the slide and made advancements where we could. Be under no illusion, Kenny will spin everything he can to make the players believe that they are 10 foot high, he'll get annoyed at the media and put his reputation on the line, but he won't be fooled for one second.

With a trophy, maybe two, and a return to europe, things aren't were we want them to be, but we have progression. Gone are most of the dead wood, with only need for a little pruning and a few new upgrades. We have a very good backbone of a squad with 7 key first team starters. We have a few possibilities coming through the ranks, and the knowledge that Kenny is driving the bus.

The result? We will continue to move forward but it is very unlikely that we will win the league next year either. Another cup, Champions League finish, the impetutus to get in the one or two players that will take us over the finish line, all the while building a squad which will play together for the next five years. For some, that wont be enough, not what we once were, for others, they can't remember what we once were, either way, these things won't make a difference.

We haven't been a top four team for quite a while now, never mind a league winning team, thems the facts. There are reasons for this that go back a long way, and there is a long way to come back. But we are coming back.
Interact with us