It's Not All Bad
Feature by Philip Hale
Updated Monday, 13th February 2012
When the Reds left the Reebok on January 22nd they were in seventh place and six points off fourth place.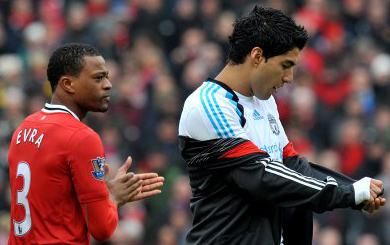 Three weeks and three league games later Liverpool find themselves in the same position in the table but only four points adrift from Champion's League football next season. If the Liverpool team and management need something to focus their minds, following Saturday's events at Old Trafford and Sunday's cluster of apologies, it will be that a difficult period has actually ended with them closer to a major season's goal. Of course the same period has seen progress in both domestic cups.
The three league games since the Bolton defeat have been a microcosm of Liverpool's season. Against Wolves the spirit in the side and their ability to produce free flowing attacking football was on display in what turned out to be a comfortable victory. At home to Tottenham the Reds effectively neutered a visiting side that is the only real threat to Manchester's dominance of the title race but failed to turn superiority into goals and three points.
On Saturday we witnessed another face of this Liverpool side that has shown itself occasionally this season, the one that seems to lack fight and cohesion. The first half of the game was a stalemate with only Glen Johnson's curled shot after four minutes and Paul Scholes's tame header giving either keeper real cause for concern. That all changed in the opening five minutes of the second half as two goals from Wayne Rooney shattered any idea Liverpool had of containing United and playing on the counter attack.
If that was Dalglish's original intent then having seen the plan unravel so soon after the break he would have expected a better response from his players. There seemed a resigned air among the Liverpool ranks, a collective acceptance that it wasn't their day. If that's unfair then unfortunately there wasn't any evidence to the contrary. United were left largely unchallenged for the next thirty minutes, a lack of pressing and ambition from the Reds gave them the opportunity and room to pass the ball comfortably without the need to take any risks.
It led to an uneventful game on the pitch that was frustrating to watch as a Liverpool supporter. This United side looks vulnerable defensively but they were not tested until substitute Charlie Adam put the only accurate and effective ball of the afternoon into the box in the eightieth minute. From the resulting deflection Luis Suarez poked home a goal that gave Liverpool hope for an unlikely come back. The onslaught never materialised as Liverpool still seemed reluctant to throw caution aside and attack. Glen Johnson did force a save from De Gea but United were allowed to play out the game without any real pressure.
The game was of course played against the backdrop of the non-handshake between Suarez and Evra. Plenty has been and will be written about it, almost all of it of course condemning Suarez. Little will be made of Evra's immediate look to camera and his smile immediately after the line up as he shook the official's hands. It certainly gave the impression of someone who had got what he wanted as opposed to someone grievously offended. Clearly if Suarez had assured Dalglish and the club he would shake hands and didn't then he, to an extent, let the manager and club down. It is hard to condemn him completely for not wanting to shake Evra's hand. Unfortunately in failing to do so he gifted Evra, Ferguson and the press exactly what they would have wanted. None have been slow to make capital from the opportunity.
It was through the looking glass stuff and United pulled off quite a feat. Evra was able to grab Suarez's arm in protest, confront him in the tunnel (allegedly), and celebrate wildly in his face. Ferguson meanwhile made unwarranted and provocative comments regarding Liverpool's need to sell Suarez, and his players sang "racist bastard" about Suarez from their dressing room. All of this was achieved apparently without stepping down from the moral high ground.
The media coverage from the beginning of this saga has of course been shameful. However I found the following from Phil McNulty on his BBC blog to be sadly depressing in its misrepresentation and an indication of how the narrative of Suarez's unimpeachable guilt has now passed completely into the country's consciousness.
"For balance, Evra then unwisely did an impromptu triumphant sprint around Old Trafford ending, not entirely coincidentally it appeared, very close to a visibly downcast Suarez. Cue more angry confrontations and condemnation for his own player from Ferguson."
The only way that Evra's behaviour can be excused is to explain it as a reaction to a man who racially abused him. From that starting point then what McNulty writes "for balance" makes some kind of sense. However, if you pass it through any other filter (not that anyone outside of the club and its supporters has shown a desire to do so) then it is so removed from the facts that it amounts to little more than FA /United stenography.
There is reason to debate whether Evra's sprint was impromptu but more importantly nobody with any interest in balance could view the fact that its conclusion took place so close to Suarez as anything but deliberate. Likewise it is just not correct to say that his actions led to a "condemnation" by Ferguson.
This is what Ferguson said about his player,
"I didn't see it, him celebrate in front of Suarez. He didn't need to do that, but maybe its understandable"
I say this is depressing because the piece in which it is written is without any apparent feeling of rancour or desire to castigate Liverpool or Suarez. The casual use of the word "condemnation" to describe what is clearly a defence of the player just shows how far from objectivity the press has moved. Depressing as well because I don't think McNulty even wrote it consciously.
The apologies from Suarez and Dalglish and Ian Ayre's statement have drawn an acknowledgement and acceptance from United. In a profoundly unjust situation this at least gives the club and Dalglish the opportunity to refuse to comment further and to point to United's statement and say that the matter is finished. That sticks in the throat but it seems to be where this has concluded.
Given the nature of FA procedures, the media feeding frenzy and Liverpool's naïve handing of aspects of the original hearing this may be the best that can be hoped for. It's not what should have happened but it's hard to escape the fact that some kind of end game has been reached.
It seems inevitable too that there will be some bridge mending needed between Suarez, Dalglish and the club but it is time for business to once again be dealt with internally. Dalglish has fought what has amounted to a sustained assault on the character of Suarez, the club, supporters and himself in the best way he knows and in keeping with the club's traditions of loyalty and defend your own. Dalglish's statement on Sunday in particular was laudable. If he genuinely believes that he let his standards slip in the interview with the contemptible Geoff Shreeves then he is an honest man to apologise for it. If he made the apology only in the best interests of the club then he once again demonstrated that he acts as he speaks when he says the club comes before any individual.
With an FA Cup game coming up, a League Cup final to follow and a chance to narrow the gap on Arsenal it will be a relief for all involved to get back to talking solely about the football. It seems a while since that was all it was about.
Interact with us