Suarez. Amazing. Frustrating
Feature by Leviathan
Updated Tuesday, 3rd April 2012
I feel a huge part of our lack of goals is because of our entire strikeforce, and Suarez is a part of that.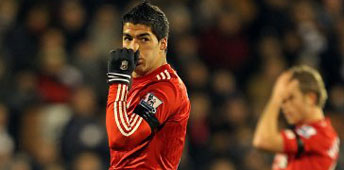 In defence to the rest of the team, Suarez is probably the most unpredictable player in our team. When you have the ball, you don't always know where he will run to. You don't always know if he'll go for the posts or hang back. When he's got the ball you have no idea when/if he'll pass and whether to go nearer or try to make space. We have all kinds of problems but is there a case that one of the problems with Suarez is he just is not a team player?

How do you assist a player who doesn't have a signature run/move which you know he will always try to do?

How do you learn how to partner a player who may or may not pass, may or may not run, may or may not shoot?

How and where do you cross the ball to with a player like Suarez?

It's entirely possible that other players are struggling because of a lack of communication and connection with Suarez. Likewise Suarez could be slightly struggling because other players aren't linking up with him as much as they could.

There's a lot to be said for predictability. Messi for all his skills and technique is fairly predictable. He's just so good at it that he's almost unstoppable. It's often like our team just doesn't know each other,know a plan and know how and where to play FOR each other.

Suarez could be a key player for our future so we do have to find a way to get all the players on the same level, if this means demanding Suarez not be so greedy, or demand that Carroll shadows Suarez for the whole game and make a certain type of run, just in case, then so be it.

We have to find a way to make our players understand each other and become more effective.

If we did have to sell Suarez to fund a more predictable striker who is just VERY good at a certain type of playing, rather than great at being unpredictable and frustrating for all who watch, then maybe it is the right way to go?

Either way, I don't see all the problems that we are having as "On Suarez" but I do think a lot of problems can be solved if we start looking at Suarez and not just Carroll, Henderson & Downing!
Interact with us