The Liverpool Way
Feature by Craoibhe Rua
Updated Monday, 14th May 2012
LFC is more than just a football club and with that it is not perfect, but it is what it is.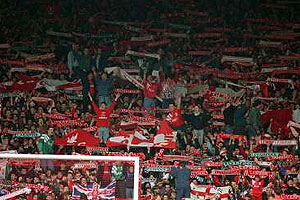 We have a history that is entwined with people and streets that surround it and we breathe the same air. We are a team which is borne from scouse philosophies and socialist ideals, even though some fans might not see this when they start to support us. Yes, football is a business, but that just means that people can benefit as much from our demise as from our growth.

Anyway, this isn't a lesson about the internet nor about the history of the club, its just a few points of common sense for the next few months that might help keep you sane.

1 - Football clubs downplay their transfer budget if you aren't Man City or Chelsea.

There has been a lot of speculation about the budget we have or haven't and some people are scared that we will either have no money, or kenny will have no money, all based upon speculative media non quoting articles wrote simply to be read buy those who are gullible enough to believe it.

TEST - WHO ELSES TRANSFER BUDGET IS BEING DISCUSSED AT THE MINUTE?

2 - John Henry doesn't give his secrets away to random people.

I find it amazing that anyone can believe that a man who looks after the interests of almost 20 multi millioniares/billioniares might get a little loose lipped on a stroll around town. I really do find it amazing.

TEST - WHAT HAS JH OR TW BEEN QUOTED SAYING THAT HASN'T COME TO FRUITION?

3 - We have a business model that we are actioning.

Business is simple. You speculate on the value of what you might get in return for what you spend. You choose a business model that is somewhere between risky and sensible and you action it accordingly. You examine the variables and possibilities, the best and worse case scenarios, and have a philosophy of response ready before they happen. You don't panic.

TEST - FROM 18 MTHS AGO, WHAT DEBT HAS BEEN REMOVED FROM THE CLUB ITSELF AND WHAT INCREASE IN REVENUE HAS THERE BEEN IN A TIME PERIOD WHERE WE WERE STILL NOT A TOP 4 OR TROPHY WINNING CLUB?

4 - Kenny does appreciate the speculative agenda of the media.

Whether it is amusing or embarrassing, a strength or a weakness, Kenny has always disliked the media as he never felt comfortable dealing with them. History has shown us that the media have rarely done the career of any Liverpool staff member any altruistic favours. As a result, the media have no love for Kenny and there is no one looking after his back and there is nothing that will change.

TEST - IF WE WERE TO SEPERATE ALL THE SHITE BEING DISCUSSED INTO TWO PILES, MEDIA STORIES WITH QUOTES AND ONES WITHOUT, HOW MANY HACKS DOES IT TAKE TO CHANGE A LIGHT BULB.

5 - What is the Liverpool Way?

Its not necessarily the way the club has always done things, and indeed it's not a guarantee of success, but there is a liverpool way and KD is always going to do things this way. It involves creating a core of a team from where you can then move on from year to year with the addition of one or two key additions and one or two improvements to the squad, as you give one or two youngsters the chance to stake a claim to put on the famous red jerseys. It isn't done in the public forum, it doesn't bring over night success and the timeframe of success is dependent upon how far we need to catch up.

TEST - IS THERE ANYONE ON THIS FORUM WHO ACTUALLY BELIEVES THAT KENNY WOULD PUT HIS NEEDS ABOVE THE NEEDS OF THE CLUB?

So, there it is. I'm actually just killing an hour and I'm supping on a rum, but I felt that some of the media driven gobshitery that has been brought up on these boards is actually very scary. I accept that not everyone has the benefit of history or culture to understand the character of the people who have been part of the fabric of LFC and its history, so because of that they get a 'let ofF', but ffs, the mentality of this place seems to be getting more and more uneducated, and I don't mean that in a scholarly way.

There is a Liverpool way. It doesn't have to be the right way, but it's the liverpool way and by following the club, we sign up to the small print that is in the contract. There is no point in saying, thats not my way, or I didn't know that. LFC is too special to be treated with the contempt that that suggests, and I have ran out of fools pardons.

Sleep tight Liverpool.
Interact with us