The Man Between The Posts
Feature by Connor Morrissette
Updated Tuesday, 28th August 2012
Liverpool has seen many stars come and go throughout the recent years. Whether it's been Fernando Torres, Javier Mascherano or Xabi Alonso, one thing is clear, consistency has become a real issue for the club.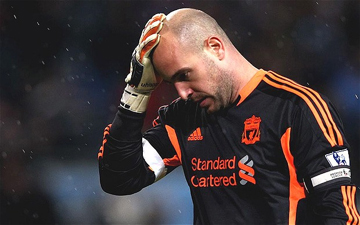 Even managers have been tough to come by. Liverpool have yet to find an adequate replacement for Rafa Benitez who parted ways with the club after the 2009/2010 season. When fans think of Liverpool icons that are in the current squad, immediately Steven Gerrard and Jamie Carragher come to mind. But many forget to mention arguably the most consistent and iconic player of the last seven seasons, Pepe Reina. Week in and week out Reina quietly gets the job done and rarely disappoints. Whether it's hype from a sensational Stephen Gerrard goal or a masterful move by Luis Suarez, Pepe Reina's contributions have routinely been overlooked throughout the years. This needs to change.
When Pepe Reina was bought by Rafa Benitez from Villarreal, Jerzy Dudek was still the Reds' number one keeper. Dudek was at the top of his game and had just come off of the unimaginable Champions League Final victory over AC Milan in which he magically denied Andriy Shevchenko in extra time and then saved two penalties in the shootout winning Liverpool the title. The plan was that Reina would act as Dudek's understudy and eventually take the starting job. But when Dudek suffered an injury in the preseason that sidelined him for three months, Reina was forced to start much ealier than expected. Many were skeptical of the Spaniard and wondered if the pressures of being the Liverpool number one would get to him. They didn't. Reina had started 168 league games and 34 games in Europe for Barcelona and Villarreal before he arrived at Anfield. Even though he was new to the Premier League his past had warranted him a chance to start in goal for the Reds. He seized the opportunity and would go on to have an incredible season.
Reina got off to a dream start with four clean sheets in his first four league games. It was as if he had been playing in English football for years. Then, from September 29 to December 31 Liverpool won ten straight matches and Reina only allowed one goal during this streak, a simply remarkable tally. Reina played so well that when Jerzy Dudek returned from injury in December, Rafa Benitez kept Pepe Reina as Liverpool's number one. The hero of Istanbul was forced to sit on the substitutes bench. No one had seen this coming. Liverpool would go on to finish third that season; two places higher than the previous campaign. Reina kept 30 clean sheets in all competitions, beating the record of Liverpool great Ray Clemence in the process.
For as wonderfully as Pepe Reina played in the Premier League, the pinnacle of his success that season came in the FA Cup Final against West Ham. After 120 minutes of play the score was tied 3-3 and the two sides went to penalties. As Dudek watched on from the sideline Pepe Reina saved Bobby Zamora's penalty and then went on to save Paul Konchesky's after a Teddy Sheringham conversion. After the Konchesky save Martin Tyler went on to say, "He's going to out Dudek, Dudek". And out Dudek he did. Anton Ferdinand stepped up to take West Ham's fourth penalty and Reina made a diving save to his right. Liverpool had won the shootout 3-1 and Pepe Reina was the hero. That day truly symbolized the changing of the guard in the Liverpool goal. Dudek would be sold to Real Madrid the following season.
Reina provided a model of how to succeed at Liverpool. He came to the club as a project. He was close but still needed some fine tuning and some time to adapt to the English game. It was simply incredible that he could go from a six million pound back-up option to leading Liverpool to an FA Cup victory and a third place finish in the Premier League. Keepers who are brought in to be the starting option at top English clubs usually struggle at first. Just look at Manchester United's David de Gea. For 17 million pounds United bought their keeper for the future. In his first season de Gea looked out of place at times and lacked confidence. It was obvious that if Edwin van der Sar had come out of retirement last season he would have started over de Gea. The fact that Reina was able to make a seamless transition from La Liga to the Premiership and outshine Liverpool's Champions League Final hero and keeper of four years is a once in a generation story.
Liverpool fans cannot take Pepe Reina for granted. Despite the struggles as a team over recent seasons Reina has still been playing as well as ever. It always could be worse. Fans have to remember that we will not always have a keeper that shows no distress when a defender plays a tough ball back to him (this happened countless times against Man City on Sunday). We will not always have a keeper that knows exactly where to play the ball to get his team on a swift counter attack. We will not always have a keeper that for six of the last seven seasons has been in the top three in the Premier League for goals against ratio. We will not always have a keeper that can save penalties as well as Reina can. Finally, and most importantly, we will not always have a keeper that is as dedicated to the Liverpool cause as Pepe Reina is. A player of Reina's caliber should be playing Champions League football every season. He won't be again this season but he will be doing everything in his power to get the team back to a coveted top four place. He has embraced this challenge rather than walk away from it like many ex Liverpool stars.
Because of his play and attitude Pepe Reina is invaluable. He is a star and needs to be treated as such. In a game filled with hot-heads and ego maniacs it is refreshing to see a player just do his job. Pepe has seen the best of both worlds. He was there for the FA Cup and League Cup victories but also toughed it out for the end of the Gillett and Hicks years. I don't know too much about how this season will unfold but one thing is for sure: if Liverpool do win a trophy it will have a lot to do with Pepe Reina.
Interact with us