Thoughts on John W Henry's Open Letter
Feature by Lewis Melisi
Updated Tuesday, 4th September 2012
Subsequent to the recent events that have unfolded at Anfield, once again a dark cloud looms over the Merseyside club, so much so that principal owner, John W Henry has written an 'open' letter to the fans. Below are some of my thoughts...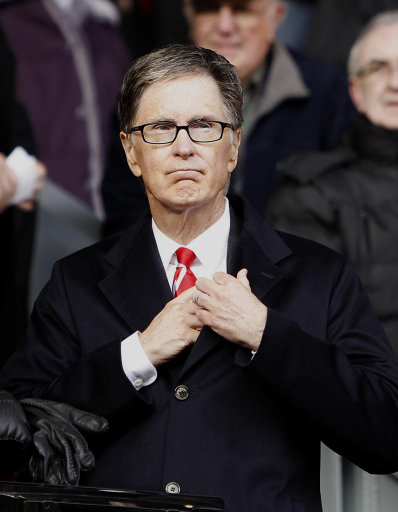 Whether you believe the aforementioned letter to be a simple PR exercise subsequent to the mass of concerned tweets sent to John W Henry or whether you genuinely believe FSG have the best interests of the club at heart is your opinion, and I respect each individuals views on this (and hope you can afford me the same if you don't necessarily agree with mine).
Whilst a letter doesn't alleviate our current predicament it does at least serve as notice that FSG are aware that mistakes have been made and they feel the need to communicate with fans, which I do not believe to be negative point, how often are owners and boards criticised for not staying in touch with the people that matter, namely us. Before anybody picks me up on it I am more than aware that there wouldn't have been any need for the owners to write such a letter had the mistakes not been made in the first place.
Firstly I'd like to start by saying I feel Brendon Rodger's is most definitely the right man to take the club forward. Whilst relatively inexperienced at the highest level, he does possess a passion for the game which is hard not to admire. I for one am very impressed with the way he speaks about the club and his love for the game, he has a vision and is devoted to achieving his plans. Few criticisms can be made against his playing style, pass and move, keep ball, be comfortable in possession, passing and penetration, the only small disparagement for me is this will take time to implement and it does have the potential to take results and performances a step back before forward, but ultimately if players, fans and owners alike buy into the method it generates a far more aesthetically pleasing and exciting brand of football, and also I would argue a more successful team, it's harder to beat a side when they don't give you the ball. And lastly his willingness to both encourage youth development and field younger prospects can be hugely beneficial for the club, both commercially and on the field. The unfortunate thing for Rodger's is that whilst he isn't responsible for errors of previous regimes and managers he is now burdened with them, most notably the huge sums paid for the likes of Carroll, Downing, Henderson and to a lesser extent Adam, but also the high wages they are rumoured to be earning, along with other players at the club it has to be said. This for me is the principal reason for the failings in the recent transfer window.
All of the above said, the existing issue with regards to our worryingly thin squad and complete lack of striking options falls equally at the feet of all parties – FSG, Ayre and Rodgers. Quite simply, and not wanting to dwell on a problem we now have limited options to resolve – A lack of communication, obvious yet denied misleadings and, like him or loathe him, allowing our number 9 Andy Carroll to leave prior to having a sufficient replacement in place first is a ridiculous and absurd position to find ourselves, humiliating to all except those connected with the club. Unfortunately the powers that be have made our bed and we must now lie in it. As Brendon Rodger's put it "It is what it is". I'm not suggesting that we should accept the failings but our efforts would be better spent supporting the team and the manager going forward now. Of course there are questions that remain unanswered but working with what we have and not allowing the situation to further be to the detriment of the squad is the main priority.
In the long term a great deal of John W Henry's letter makes sense and whilst it may have somewhat negative short term implications for the team and any unlikely immediate success, the long-standing benefits cannot be ignored. A club with a strong financial footing, developing young players will stand the club in good stead going forward, not being dependant on huge investment in transfer dealings, which let's face it, we don't have. Without our very own Russian oil baron or Sheik we will not be competing with the likes of City and Chelsea for some considerable years and for people to suggest that we should be spending with little or no consideration for the future is exactly the stance we shouldn't be adopting, that alone has the potential to cause greater harm to this club than any other issue we currently face, lest we forget the dire financial situation we were in at the end of the Hicks and Gillet era which by all accounts had the club on the brink of administration.
To say FSG haven't invested is ultimately wrong, the largest transfer budget Liverpool FC has ever known was spent on their watch, and regardless of the net spend of those particular January and Summer windows the money that came in for outgoing players was reinvested back into the squad, in my opinion, very poorly. Who can blame FSG for not wanting to again plough millions into what is an inflated market with huge gambles at every turn, a market where they have already had their fingers severely burnt. Also let's not forget that the club have successfully negotiated new contracts with some of our biggest stars this summer, again showing that where necessary they are willing to pay competitive wages to keep those that really matter here.
I like most others don't buy into the fact that FSG aren't here for profit, FSG are a sports investment company, the clue is in the name, Invest means – 'expend money with the expectation of profit', but what I do believe is that they plan to make their money of the back of a successful organisation. It is not in their interest for the club to be unsuccessful. They will be more than aware that as a club and globally as a brand their success is determined by that of the on field success, if Liverpool FC fails so will FSG. One thing I do suggest though however, and this is a mistake on the part of FSG is that they underestimated exactly how much investment was required to bring success, and for this reason I feel is now why a new approach is being adopted, and Rodgers is key to this for the reasons explained above.
I consider FSG's short term plans are to rid LFC of those high earning bit part players who have for too long sat on the gravy train, contributing little but taking lots. Put an emphasis on younger players breaking through our development schemes, attempt to make the club less dependent on costly transfer investment and instead "build from within" and install a modern, flowing, attacking and visually appeasing style of play mirroring that of the Spanish 'Tika Taka' approach, and IF this is the case I'll applaud their actions.
Perhaps I'm just an optimist, but regardless of whether I'm right or wrong with the above, I will always support the players and the club regardless.
Interact with us