Toffees Chewed Up, Potters Hopes Smashed
Feature by Kieran Davies
Updated Tuesday, 20th March 2012
So David Moyes decided to prioritise an FA Cup tie with Sunderland over a Merseyside derby, not the best decision of his Everton tenure.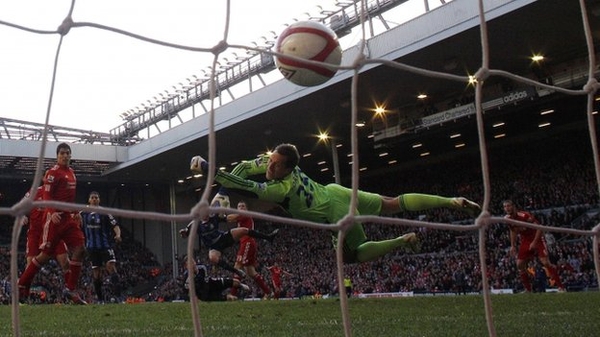 Maybe it shows his desperation for silverware, but FA Cup or no FA Cup, Everton fans weren't happy with his team selection against their rivals from across Stanley Park. I think personally Liverpool would have had too much to offer, irrelevant of the side Moyes fielded after all its not as if he left Lionel Messi on the bench. This game showed a Liverpool that we haven't seen for a while and have seen all far too inconsistently this season. High tempo, fast flowing football with the roar of the Anfield faithful spurring the side on. This is what Anfield has been synonymous for over the years but it has been lacking all too much this season. Quick interplay and the players playing neat triangles of passing between each other, opening up Everton time and time again. Local lads Gerrard, Kelly and Spearing all had good games and maybe showed how much this fixture means to them. The whole side put in a good performance and I think this showed with the fact that the one and only Liverpool substitution came on 72 minutes. The stand out performer on the day being Captain Fantastic although he had much adulation for Luis Suarez's part in proceedings.
So with three points bagged and a double done over Everton, Liverpool turned their attentions to a FA Cup tie with Stoke City. This meant the return of ex players Crouch and Pennant to Anfield and left Kenny's defenders under no illusions and to expect a tough afternoon of long throws and long balls into the box. A test of a very different nature. The only change to the side that beat Everton was that Maxi replaced Henderson out wide. The early exchanges were very scrappy with both sides giving away possession far too easily. It wasn't until Luis Suarez hit a fantastic shot from all of 20 yards out that anything of any real note took place in the game. A poor decision by the referee gifted Stoke a corner that blatantly shouldn't have been and poor marking by Liverpool allowed Peter Crouch to head home from close distance and draw Tony Pullis' side level.
Dalglish seemed to buck the player's work ethic during his half time team talk and the Reds started the second half in positive mood and actually managed to string more than four passes together without giving away possession to the visitors. It wasn't long into the second half that Downing received the ball on the right hand side of the pitch, playing a ball into Gerrard who was unable to take it in his stride, the ball clipping off the back of his heel straight back into Downing's path. The ex-Villa man picked the ball back up, jinked passed some lunging Stoke challenges and struck the ball with real venom passed the helpless Sorenson. A fantastic goal showing a brief glimpse of what Liverpool saw in Downing to persuade them to part with £20m of FSG's money.
I thought that Downing had his best game in a Liverpool top in the Carling Cup Final but the goal versus Stoke was the person who has set crowds alight at Middlesbrough and Aston Villa. Hopefully this will be the catalyst Downing needs to produce the goods more consistently. The rest of this FA Cup tie was as frenetic as you would expect with both sides creating half chances and Stoke trying to pepper the Liverpool box with one long throw in after another. The experience of Jamie Carragher partnering Martin Skrtel in the centre with the absence of Daniel Agger really paid dividends as he marshalled the back four and made sure that the door stayed shut despite Stoke's attempts to find an equaliser. The final whistle blew and you could see by the celebrations of Kenny Dalglish how much a return to Wembley so close after the Carling Cup Final actually meant to the Liverpool manager. Evidently trips to Wembley are like buses, you wait so long for one to come along and then two come along almost in sequence. A draw against Sunderland or Everton waits for Liverpool, with the would be opponents still anyone's guess. QPR next stand in Liverpool's way and offers a fixture we should definitely be taking three points from. On a weekend where football and allegiance to clubs pales into insignificance with the tragic events at White Hart Lane, I am sure like many others you will join me in wishing Fabrice Muamba and his family well and hope he makes a full recovery very soon. YNWA Fabrice, never.
Interact with us