What Do Points Make?
Feature by Kieran Davies
Updated Sunday, 11th March 2012
Cue the image of Bruce Forsyth and his famed catchphrase... "what do points make?... prizes!" After adding to the trophy cabinet after a long absence, the attentions needed a strong focus on league form.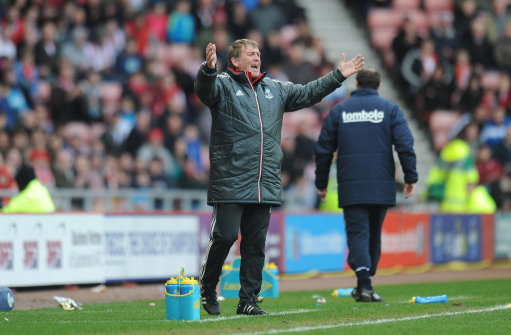 Cue the image of Bruce Forsyth and his famed catchphrase... "what do points make?... prizes!" After adding to the trophy cabinet after a long absence, the attentions needed a strong focus on league form. However defeats against Arsenal and Sunderland leave Liverpool in the 'also-ran's' category of the Premier League. Not even close enough to 4th spot that a couple of wins on the bounce can get things back on track, close enough to 14th spot in the table that only 4 points separate them. The recent defeats as demoralising as both are, but for very different reasons. There is no doubting to even the untrained eye that against Arsenal Kenny's men were by far the better team. Even Robin Van Persie pointed it out in his post match interview. But failure to convert chances into goals and possession into meaningful attacks undid the Anfield outfit yet again. The Sunderland defeat however was even more lacklustre and short of memorable moments as Liverpool didn't create much and certainly did not look like a Champions League team by any stretch of the imagination.
There is no point dwelling over missed opportunities and where it could have put us in the league, we are currently where we deserve to be. We have not consistently looked like a unit in the Premier League this season and the league is now so competitive that you have to have a strong defensive unit, complimented by a creative but hard working midfield, with clinical strikers who only need a chance to hurt you. If you do not have these qualities you will not find yourself striving towards the summit of the table. Kenny tells us time and time again how he is happy with performances and how on another day we would have come out comfortable winners. Whenever did Liverpool FC start becoming 'happy' with defeats? As much respect and faith as I have in King Kenny, changes have to made even if it is just in application towards players underperforming. Defeats are NOT good enough and spurning chance after chance, week after week, is not acceptable.
The underlying problem seems unknown to the fan on the street. Why are the players so poor at converting chances into goals? Luis Suarez for all qualities has a chance-goal ratio that would embarrass most centre backs. Do we need a new coach to take the players attack coaching on board and turn things around? Are the goals at Melwood non-regulation size and are in fact 2 foot bigger in all directions? Something needs to be done for the long term goals of the club. As things stand, as a 'realistic' Liverpool fan I see the best outcome for our season is now two domestic trophies and European football in the form of the Europa League. A depressing sequence of Thursday night games screened on Channel 5, the channel of the glorious car crash that is Big Brother. Ex-players who weren't even 'that good' footballers giving their opinions on how Liverpool should approach their task of defeating some European minnows who spent their week preparing by delivering milk, post etc etc. As much as the competition is ridiculed, again, winning a trophy would be a positive.
The focus has got to be on league form for the rest of this season and the next. We can confidently look to progress in the FA Cup and another trip to Wembley would be more than welcome. If we were to win the old trophy, we could attract good players to the club still I feel. Having won two domestic trophies, I feel Kenny could then sell the plan to have Champions League football back the season after next and get these players on board. This week throws up a midweek fixture in the league that form goes out of the window for, a Merseyside derby. This could be just what Liverpool need to bounce back to some sort of form with the home crowd cheering them on and willing the win that will give them bragging rights over friends, work colleagues and family alike. Obviously the unthinkable of a 4th straight defeat would mean David Moyes men overtaking us in the table. A very sobering thought. I thought before the cup final, you shouldn't need a team talk to motivate players into giving their 'a-game' but I was proved wrong. Let's hope that the passion and atmosphere of a Merseyside derby will in fact do this instead. Unless we start getting back to winning ways, the slide down the table could be likened to a bobsleigh run. Time for Kenny to stop being happy with defeats and getting that ruthless mentality back in the side, getting them to play for the crest and not their weekly wages. Tuesday's game certainly throws up a pivotal point of the remainder of the season, let's hope the players step up to the plate.
Interact with us