Why the Europa League Matters
Feature by Connor Morrissette
Updated Sunday, 30th September 2012
Two weeks back Liverpool began their Europa League campaign with a 5-3 thrilling victory over Young Boys of Switzerland. It was a great start to the tournament.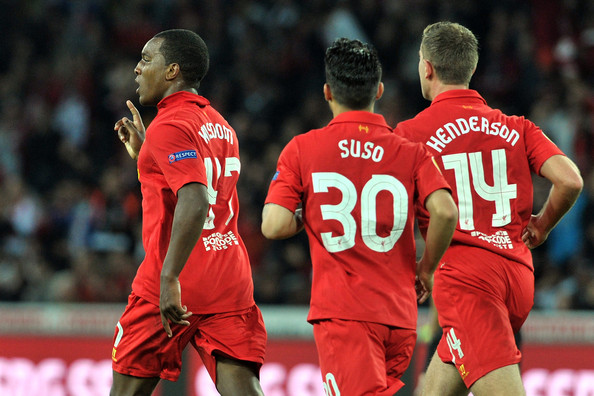 I was especially impressed with the young guns who featured in the match such as Andre Wisdom, Sebastian Coates and of course Jonjo Shelvey who scored twice. I enjoyed the attack minded play of the team and I loved how Brendan Rogers seems to be taking a different approach to this competition.
The last time Liverpool featured in the Europa League was in 2010/2011. The team crashed out in the round of 16 to Sporting Braga of Portugal. Liverpool hardly impressed during the tournament; they won their group but had only two wins. In the round of 32 it took the team 86 minutes into the second leg to break the deadlock against Sparta Prague of the Czech Republic. This time around Liverpool should challenge for the title.
Past Liverpool bosses did not manage this tournament correctly. When Roy Hodgson was in charge Liverpool played FC Utrecht of Holland twice in Group K action. Both of these ties ended in 0-0 draws. After both matches pundits stated that these were some of the most bland and effortless Liverpool performances they had seen in some time. The first time the teams met, Hodgson got his philosophy all wrong. He thought that just by putting out a team of mostly senior players that his side would bring home a victory because they were superior. The likes of Fernando Torres, Glenn Johnson, Martin Skrtel, Lucas Leiva and Raul Meireles came out extremely flat and deserved their draw. They lacked motivation and put out a pathetic and lethargic display.
Brendan Rogers treated the Young Boys fixture perfectly. He left the senior players back at Melwood and played only with the young reserves. These reserves came out firing. They were not fatigued from Premier League play and were extremely motivated to show their boss what they could do at the first team level. Wisdom, Coates, Pacheco, Suso, Assaidi, and Shelvey all did themselves a world of good. Suso and Wisdom played so well that they earned themselves a starting place in Liverpool's 5-2 victory over Norwich on Saturday in the Premier League. On paper, the Hodgson first team against Utrecht appears to be much stronger than the Rogers first team against Young Boys. However, in this setting it makes so much more sense to take the Rogers approach and go with youth. Rogers is trying to change the culture at Anfield and I applaud him.
Looking back to the 2010/2011 Europa League Campaign when Kenny Dalglish took over it was more of the same. Liverpool drew Sporting Braga of Portugal in the round of 16 and lost 1-0 on aggregate. Similarly to the Utrecht matches there was no passion or energy in both fixtures. When there are 16 teams left in a European tournament any of the sides have a chance at winning it. This is the time when the senior players should be playing and giving it their all so their team can reach the final. A trophy was within reach and Danny Wilson, David Ngog, Joe Cole, Jay Spearing and Christian Poulsen all played parts in the fixtures. These players had no business featuring in a tie of such importance. Liverpool had an opportunity to win a major trophy and they did not take it. This season, I expect Brendan Rogers to treat the competition with a little bit more respect.
Clearly Liverpool would rather be in the Champions League than the Europa League. That being said, the Europa League is not worthless. Winning this trophy could be a massive step in the right direction for the team. A domestic cup was won last season; it would be great if Liverpool could continue their progression and win on the continental level. Brendan Rogers understands that and look for him to field Liverpool sides that will compete for this title.
Judging by history if Liverpool do go on to win the tournament their league form will improve the following season as well. Since Liverpool have struggled to break into the top four recently this could prove to be an added bonus. Out of the last eleven Europa League winners five have improved their position in the league the following season with three winning it both years. Winning this title will not instantly return Liverpool to the top of Europe, but it will definitely provide a sense of hope and confidence that has not been felt for many years.
Interact with us