Young Boys Analysis
Feature by Kerushun Pillay
Updated Friday, 21st September 2012
Liverpool have opened their Europa League campaign with a 5-3 away win against Young Boys in the group stage.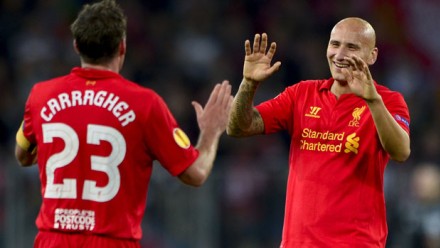 The performance was largely encouraging, but not without its concerns – especially in defence.
Liverpool set-out with the same style of 4-2-3-1 as they did in the 1-1 draw with Sunderland on the weekend. The roles appeared similar, with the centre-halves, Carragher and Coates, sitting back at all times, with holding-midfielders Sahin and Henderson playing just in front of them. Henderson and Sahin recycled possession, and harried opposition attackers. Both did well to keep Liverpool dominating the game. The fullbacks of Wisdom and Enrique manoeuvred forward when the team attacked, and backwards when defending. Downing and Assaidi played as inside forwards, flanking Suso in the hole, and Pacheco up front.
We were playing the typical Rodgers patient, probing possession game, with short passes and pressure.
We were superb when we had the ball. It was when we didn't that problems aroused: Sebastian Coates still seems to panic when overwhelmed with opposition players, whereby he just hoofs the ball upwards, and whilst Carragher played incredibly sensible passes (completing 50 out of an attempted 52), opposition strikers still got behind him easily. Carragher, Coates and Enrique combined cleared the ball from our half 25 times – not what Rodgers wants from his defenders. Our defence still seems to be coming to terms with the new system, and aren't fully comfortable with playing the ball out from the back.
Andre Wisdom was very solid, covering ground very well, and playing clever passes and taking up good positions.
We were most impressive in midfield. Our two holdings – especially Jordan Henderson – completely ran the show. Both notched up 66 passes, and three assists between them. Henderson played the more defensive role, working absolutely tirelessly, linking up play and moving between the lines. Henderson made more tackles (7) than the entire defence (5) combined, and made the most (5) interceptions – the rest of the team combined got only 7. Henderson also created the most chances (3), two of which directly lead to goals. Sahin played the more influential role, as the tempo-dictator, notching up a pass completion rate of 90.4%. Sahin's link up play, from midfield to attack and set pieces were also quite good.
Stewart Downing did impress in attack, looking lively and eager. Assaidi didn't look quite sharp, but still had a solid game. Suso was very good indeed, creating 1 chance and 46/50 of his passes. Suso seems to have naturally good composure and courage to take men on, as well as play good short passes.
Whilst substitute Shelvey stole the show with his 2 goals, Fabio Borini was mightily impressive. Borini's movement was extraordinary, giving the Young Boys defence real issues. It was Borini's sensational play that caused both of Shelvey's goals – the low cross to Henderson who teed up Shelvey for the first and, more impressively, the movement that took the defenders out of Shelvey's way for his second.
As a team, we completed 89% of our passes. 509 out of our 584 passes were short passes, which is assuring that our philosophy is being followed. More positives were the fact that we scored directly from two corners, remained calm during setbacks, and converted 5 of our 12 shots. Progress.
Sure, Young Boys was never an extreme challenge, but the performance was calm and considered. Surely it shows that, if anything, Jordan Henderson is worthy of League starts. It isn't large progress, but it is progress nonetheless, and it does bring up the morale for Manchester United on Sunday.
Stats according to whoscored.com
Follow Kerushun on Twitter @kerushun99
Interact with us