No To Refinance - Finance The Fans
Article by Adam Bryant
Updated Thursday, 30th September 2010
Latest update from the Spirit Of Shankly Supporters' Group.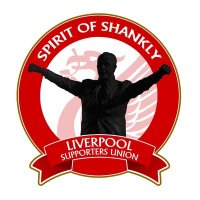 Following the Spirit of Shankly EGM held on Saturday (
http://www.spiritofshankly.com/news/September-2010-EGM-_-Video.html
), the Union's members have voted overwhelmingly in favour of all six resolutions put before them (
http://www.spiritofshankly.com/news/EGM-Voting-Results.html
).

In light of the positive vote of the Union's members, we will be developing the next steps in our "Not Welcome" campaign to see the end of Hicks and Gillett by demanding "No to Refinance – Finance The Fans".
This campaign puts the only people who can be trusted, the supporters, at the centre of a cure to our club's problems. No longer should we have Tom Hicks and George Gillett, or their ilk running a football club into the ground. Instead we will have proper custodians – us, the supporters.
This Sunday we will send out a message, loud, passionate, and clear that we, the supporters, want Tom Hicks and George Gillett out. We want RBS to call in their loans and say no to refinance. Supporters are the only credible solution, the only constant in this ever changing process. We want RBS to finance us, the supporters.
We want the Board of the Club to get behind the supporters' proposal or to publicly explain why, with access to millions of supporters around the world willing to be involved, they will not.
We will tell the Board, RBS and the watching world what we want. Before the
Blackpool
game, we will be marching from the Liverpool FC Supporters' Club on Lower Breck Road to Anfield. We will gather at 1:30pm - so we can show them our strength and the support for our campaign.
After the game we will hold another sit in protest in the ground and we would ask everyone to stay and make their voices heard so again, we can repeat the message - this is our football club. Any repayment of debt or profits to be made by potential purchasers will come from the revenue streams we supporters provide. So who better to save the football club than they very people who have made this club what it is and who will be the provider of the finance to solve its debt problems?
People will laugh, mock and tell you it can't be done. Well, the owners got away with it before because we let them. Not anymore. The Board, RBS and the other money people will try and get away with it again but they will only succeed if we let them - this time though, we won't.
Ask those that scoff what they offer as an alternative – refinancing the Americans is a very large step towards the abyss, in addition there is no queue of potential purchasers.
Supporters are the solution. We've always been the solution. On Sunday, let's show them that.
No To Refinance - Finance The Fans
We ask all those attending to bring along their flags and banners. We also require volunteers to assist with stewarding. If you are able to help or have any other ideas, please email
directaction@spiritofshankly.com
Interact with us