Best of the web
Article by Gary Purvis
Updated Thursday, 17th March 2011
The internet is awash with blogs, some great, some not so hot. Here we try to sift the wheat from the chaff so you don't have to...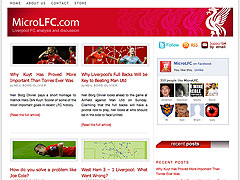 Micro LFC
Good mate and staunch Red Mike Kennedy offers some in-depth match-by-match-analysis with the help of a few fellow bloggers from around the net.
The Tomkins Times
Paul Tomkins has been writing about Liverpool for as long as I can remember. He has even waxed lyrical on these pages over the years. This is a subscription site, but don't let that put you off - its worth every penny.
All Things Red
LFC Online contributor John Roache's blog where he shares his views about Liverpool Football Club. A bloody good read, albeit only occasionally updated.
Interact with us